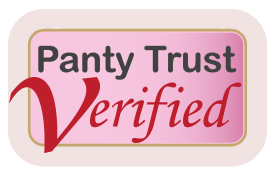 www.pantytrust.com
Welcome to our newest member Miss Xi, Fetish Model, Domina and Sensual Goddess.
Miss Xi a Canada based 23 years old Fetish Model with a range of cute used panties for sale. She gets a kick out of the thought that you, perhaps on the other side of the world, could still enjoy her sensuality, her pheromones and her scent, from such a distance.  She often visits San Fransisco, Vancouver, and can arrange for face to face used panties exchanges, in a discreet envelope/package.
To order for Miss Xi, please visit her profile.
A huge welcome from everyone at Panty Trust!
How Can I Know If A seller Is a Genuine Member? Every active member of Panty Trust has a corresponding verification page on the Panty Trust website. If you don't find a page on Panty Trust verifying that the seller displaying our logo is a member of Panty Trust, it is a fake. Please report it to Panty Trust … read more